Hi there!
I'm Julianne. I help brands tell great stories. With broad and deep marketing experience, I'm quick to understand your goals and identify solutions to achieve them.
Brewing up brilliant brand copy.
Find your voice and bring it to life. Let that brand love shine!
Achieve diehard brand loyalty with website copy, emails, blogs and product descriptions that make your unique voice and values sing and create a community of passionate enthusiasts.
Work with a trusted professional.
I bring to the brew a unique blend of career roles to my expert copywriting skills:
I understand the mysteries behind SEO. I can provide a search-optimized, succinct piece with a strong call to action to target your audience.
Editing is second nature. A cohesive, error-free message is essential to ensure credibility and professionalism. I can ensure you put your very best foot forward every time.
I'm exceptionally detailed and thorough. I can help you protect and advance your brand with a comprehensive communications audit that ensures that every interaction—from hold message to print ad to website—fosters a positive brand image and inspires loyalty.
Storytelling is everything. What my clients love most is my ability to embody their brand with enthusiasm and engage their clients, customers and community. Clients know they can turn me loose with a consumer or contact and expect not just professionalism, but also a real passion for the project at hand.
Real-world experience is a great teacher. I've worked in the corporate and nonprofit worlds, in agencies and publishing houses. I'm a team player and can be an asset to yours.
New Things Brewing
See my work in the Airstream Live Riveted blog and Airstream Supply Company product descriptions

Brewmaster Skills
The learning never stops. Fresh certifications on tap daily.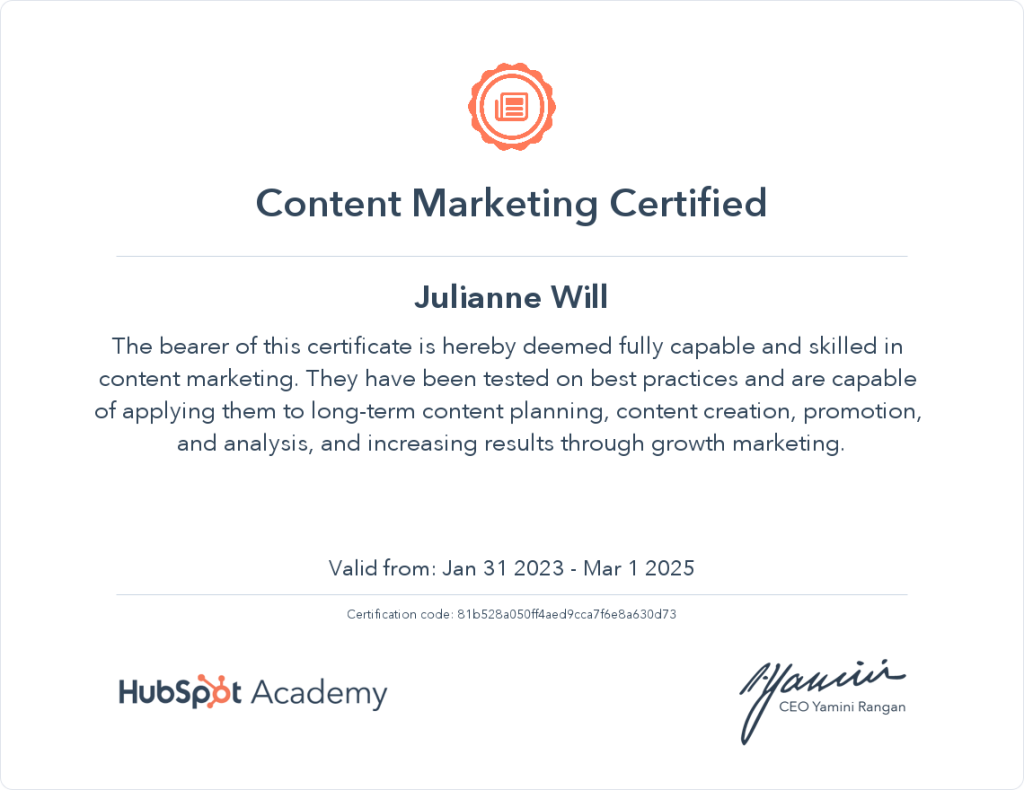 Let's chat!
Email juliannemwill@gmail.com today for a free 15-minute consultation to discuss your brand needs and how you can draw upon my expert copywriting skills to solve them.
Slide
"Julianne is quick to pick up on a company's line of business, gain a feel for how that company functions, and works well with the dynamics of the group."
—Deanna Arnold, Client Relations and Marketing Administrator, Integrity Tax Consulting
"Julianne is quick to pick up on a company's line of business, gain a feel for how that company functions, and works well with the dynamics of the group." —Deanna Arnold, Client Relations and Marketing Administrator, Integrity Tax Consulting
Slide
"No matter what the project or target audience, Julianne asks all the right questions and nails her deadlines."
—John Christensen, Director of Advertising and Marketing, Our Sunday Visitor
"No matter what the project or target audience, Julianne asks all the right questions and nails her deadlines." —John Christensen, Director of Advertising and Marketing, Our Sunday Visitor
Slide
"She was able to give the projects the quality and professional impact I was looking for."
—Kate Brubaker, President, Applemark Real Estate Services
"She was able to give the projects the quality and professional impact I was looking for." —Kate Brubaker, President, Applemark Real Estate Services
Slide
"You do a great job of telling a story and creating flow from start to finish – that's something that always impresses me. It's not something everyone can do well. It's really been a pleasure working with you on these projects, and I look forward to sending more of these types of stories your way!" —Jay F. Cullis, Content Manager, Airstream
"You do a great job of telling a story and creating flow from start to finish – that's something that always impresses me. It's not something everyone can do well. It's really been a pleasure working with you on these projects, and I look forward to sending more of these types of stories your way!" —Jay F. Cullis, Content Manager, Airstream
Slide
"Whenever I need a copy editor, Julianne is my first call. She is a fantastic AP style line editor, but I also rely on her to highlight subtler content problems."
—Steve Stevens, Owner, Stevens Editorial
"Whenever I need a copy editor, Julianne is my first call. She is a fantastic AP style line editor, but I also rely on her to highlight subtler content problems." —Steve Stevens, Owner, Stevens Editorial
Slide
"From the creativity in her writing to her impeccable organization and detailed communication skills, she makes my job easy."
—Kelly Gayer, President, Smartguys Advertising and Design
"From the creativity in her writing to her impeccable organization and detailed communication skills, she makes my job easy." —Kelly Gayer, President, Smartguys Advertising and Design